Cameras Course July 2022, Register Now
Published Jun 27, 2020 22:25 PM
PUBLIC - This article does not require an IPVM subscription. Feel free to share.
Learn to design video surveillance systems based on 1000+ tests and unique research, teaching the underlying technologies and tradeoffs of current cameras.
This is the only independent surveillance camera course, based on in-depth product and technology testing. Course starts July 12th.
Register now - registration is $299.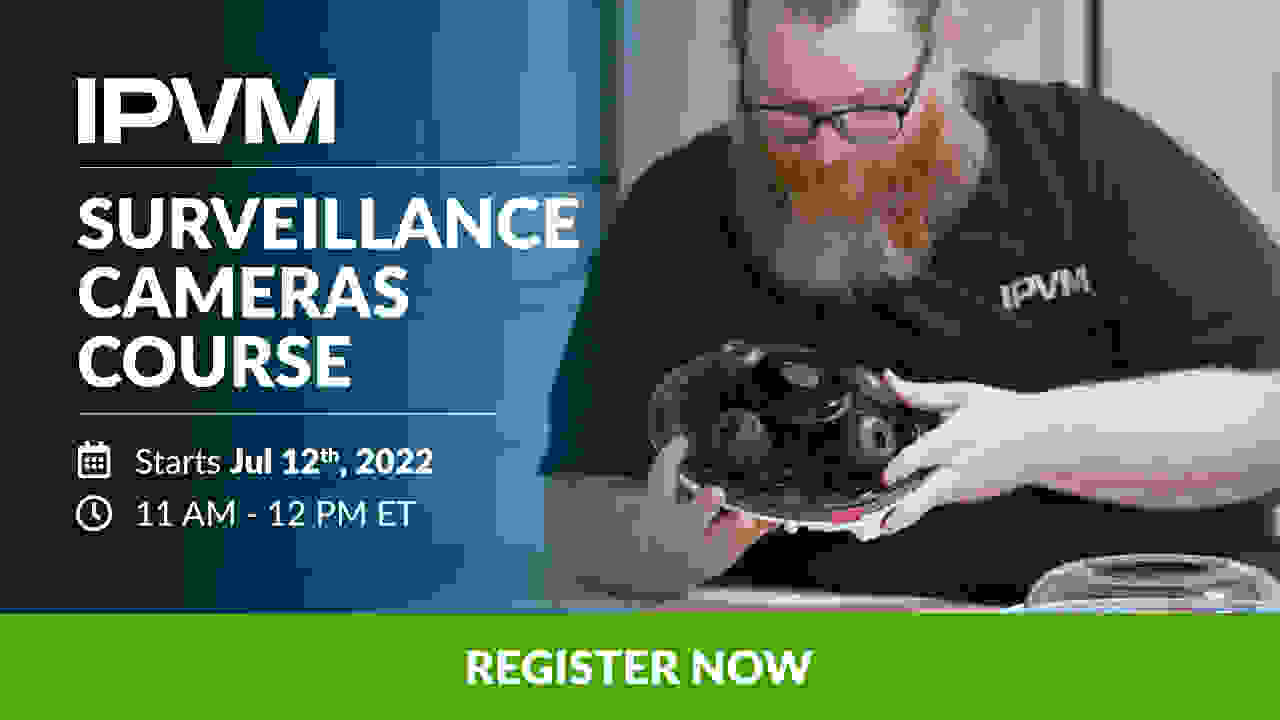 Watch: Cameras Course Introduction
Course Calendar
The Cameras course will meet live online, July 12th - August 18th. The class will meet 12 times, over 6 weeks (Tuesday and Thursday) for 1 hour from 11am ET to 12pm ET).
Lots of manufacturer training exists, but none really teaches the underlying technologies and tradeoffs of current camera technology. This IPVM course solves this.
In 12 sessions, updated for 2022, including training on AI, we cover surveillance cameras extensively:
1) Basic Lenses
The course starts with the fundamentals - lens length, FoV/AoV, varifocal vs fixed focal, and focusing - to make sure everyone understands how to use, calculate and plan coverage area.
2) Advance Lenses
We then proceed to F stops, DoF, lens irises, and shutter speed so attendees understand the impact on low light performance and image quality.
3) Image Quality
With lensing covered, we turn to resolution and compression, breaking down quantization levels, quality tradeoffs, and measuring image quality variances.
4) Streaming
Covering codecs (H.265, H.264, etc.), smart codecs, and streaming modes (MBR, VBR, CBR), we explain the tradeoffs between bandwidth, image quality, and network impact. [NOTE BANDWIDTH MOVES HERE]
5) WDR / FPS / AGC / DNR
Here we teach the differences across WDR performance, show the impact of frame rate increases (up to 120fps) and explain the critical role and side effects of gain control and digital noise reduction (2DNR, 3DNR, etc.).
6) Low Light
This Class covers D/N, IR, Integrated IR, Smart IR, 'super' low light, and thermal, contrasting these options and teaching the pros and cons of each one.
7) PPF
We teach how to use PPF / PPM correctly, what mistakes to avoid and how to incorporate this to improve the quality of your designs.
8) AI / Smart Cameras
We explain the options and tradeoffs amongst cameras offering VMD, video analytics, 'AI', 'Deep Learning' including performance issues, hardware options, and future trends.
9) Form Factors
Covers domes, minidomes, turrets, boxes, bullets, PTZs, and cubes, plus IK and IP ratings, explaining the tradeoffs and key reasons for using one vs the other.
10) Panoramic And PTZs
Fisheye, multi-imager panoramics, and PTZs are the most common choices for covering wide areas. We examine the tradeoffs amongst them, including resolution, range, usability, low light, and more.
11) ONVIF / API & SDKs
Learn what API and SDKs are, going through practical examples of camera and VMS manufacturer's APIs. Plus, understand ONVIF S, G, C, Q, and T profiles, breaking down the strengths and limitations of these offerings.
12) Camera Selection
In our capstone session, we pull all of the training together, showing you how to select and use different camera technologies in common scenarios including parking lots, offices, hallways, entrances, license plates, and more.
Who Should and Should NOT Take this Course
Even if you have lots of hands-on experience with surveillance cameras and manufacturer training, you should take this course. It teaches cameras at much greater depth than what regular fieldwork or product-specific training provides.
However, if you have no experience with IP cameras, you should not take this course unless you can commit to spending 10 to 15 hours per week studying. We have had many people take this course without experience and do very well, but only if they dedicate sufficient time to studying. You cannot pass this course simply by reading a few hours the night before the exam.
Course Instructor
The course will be led by John Scanlan from IPVM. In addition to heading up IPVM's network and video surveillance 101 courses, John is an integral contributor to video coverage and testing. Before coming to IPVM, John worked as a FE for several retailers & banks, owned a small business dealing communications equipment to hedge funds, and before that was a regional IT Manager.
John will lead each session, with others from IPVM moderating questions and providing feedback on related IPVM research and testing.
Recorded Sessions
All sessions are recorded and posted immediately after they are held live for viewing on-demand anytime.
Certification
At the end of classes, you will take a comprehensive final exam including multiple-choice and essay questions. If you pass, you will become IPVM Camera certified (see list of IPVM Certified Professionals).
Over 900 professionals are Surveillance Camera Certified by IPVM.
Attendees Feedback
Here are the experience and benefits of past students.
First up, end-users:
"Invaluable. Starting up and implementing a standard in our organization for IP video surveillance, this course has allowed me to set a working baseline."
"This class covered so many topics from security and surveillance. It was incredibly helpful."
"Better understanding of camera design, placement, and network requirements."
"I developed the ability to speak with designers and technicians and understand the terminology and technology."
"While I do not manage selection or installation of video surveillance systems directly, I do work closely with the folks who do, and this knowledge will make my dealings with them much more fruitful."
"Improved my understanding and knowledge of camera security. I now feel confident when making my camera selection."
"By the time class was completed I was also able to sit in on a 'show & tell' session from a group of vendors that installed our city's IP camera system and ask intelligent questions - and even better, was able to understand the answers!"
Next, integrators and consultants:
"Helped me sharpen skills I already have and clear up areas that are not covered in traditional manufacture training."
"Now I can apply camera types and lens types to applications without hesitation."
"It showed me how to disregard non-essential information and focus on technical information that is crucial."
"This course gave me good insight to understanding the ins and outs of IP cameras. It showed great depth in not only how IP cameras work but as to how each type applies to various applications."
"I've been doing this job for a few years but never had any real training for it. This course has expanded on many things that I had the basics but may have not fully understood."
"It has brought clear perspective of surveillance basics - many things that we assumed or just used rules of thumb were made clear. It is helping me in my day to day work at my job."
"I think it's very easy to learn about technical specs of a camera, but it's very difficult to learn how to answer correctly to "what kind of camera and what specs should i choose" and "what is the best place and how should I install this camera" regarding the needs of the customer. And this course teaches how to do that."
"This course helps to sharpen my skills and understand the basic how the technology works from scratch. This helps a lot when I am working on integration project & it helps me become an better communication bridge our customer & technical and development team."
"I just recently got into the security camera industry, I was in aviation maintenance for the past 7 years. This course helped me understand how cameras work from the ground up not knowing anything about them to begin with. Great course."
"Besides the fundamental knowledge, there are also sharing sessions by the facilitators as well as industries participant on what they are experiencing on the ground. It also allow me to see the numerous consideration that one need to take note for field deployment."
Finally, even manufacturers had positive things to say:
"IPVM helped me understand key concepts and fundamentals of IP cameras to the point that I can explain it well to people that are not necessarily tech savvy. This is invaluable knowledge as I work in the tech support department of an IP camera manufacturer."
"This course allows me to identify the strength and weakness of the product that we are using, that will help better marketing approach to our clients."
"I have learned basic knowledge for camera in general and the essay questions in the final exams actually helped me to reorganize my thoughts as I was explaining what is in my head in words. Now, I understand what the engineers in our company talk about and am able to ask questions against their opinions."
"I am a technical writer for a home automation equipment manufacturer that recently expanded its IP camera line. This course helped me to better understand the features and functions of the various IP cameras, as well as the best practices used for selecting and implementing the correct camera needed a particular application or environment. I can use this information when I write the documentation that accompanies our cameras."
Register Now: July 2022 Surveillance Cameras Course
Register now - registration is $299. This covers classes, personal help, and certification. Course starts July 12th.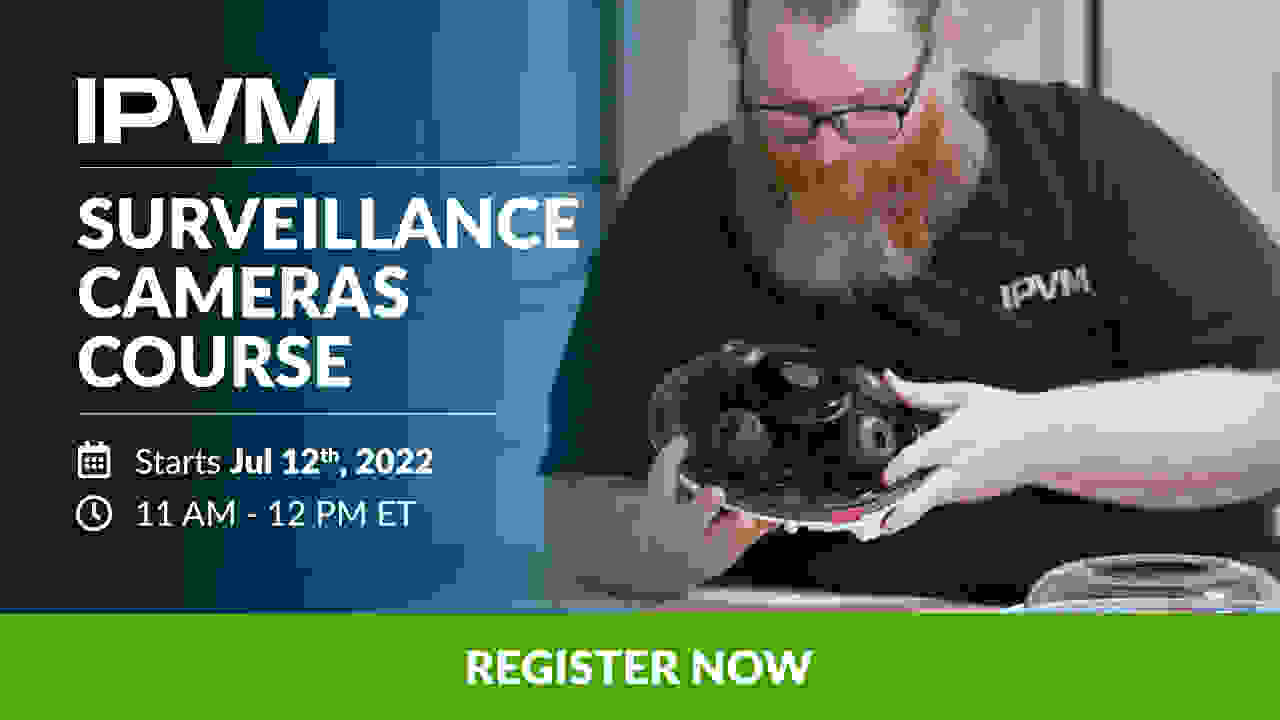 If you are not already an IPVM subscriber, registration also includes 1 month of an IPVM subscription.
On-Demand Course
We also offer the Cameras Course On-Demand.
Questions
If you have any questions, please ask in the comments or email us at info@ipvm.com